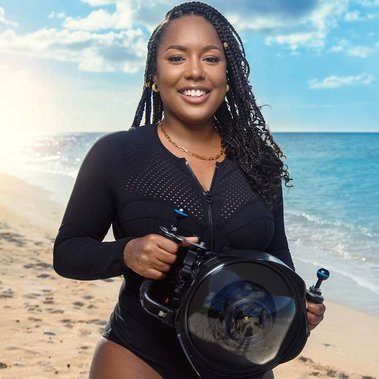 Katie Storr - PADI Master Scuba Diver Trainer - AYI Chief Stewardess - Underwater Photographer
As a child, Katie Storr was immersed in a world where yachting and scuba diving were more than just hobbies, it was and is her life. As the daughter of a yacht captain and scuba diving master, she was exposed to the best of both industries and has visited more than 15 islands in The Bahamas.
With a desire to share her extraordinary experiences, she created a Yacht Concierge and Scuba Company unlike any other.
Her unwavering dedication, lifelong connection to the sea, and genuine enthusiasm for providing unforgettable experiences led to the creation of The Mersquad Yachting.
"At The Mersquad Yachting, we are committed to providing a seamless experience that exceeds your expectations. From the moment you step on board one of our speed boats or luxurious yachts, you will be immersed in comfort and refinement. But the true essence of our company lies in the enchanting underwater world that awaits beneath the surface. Our team of experienced dive professionals will guide you to some of the most captivating dive sites The Bahamas has to offer. - Katie"
The Mersquad Yachting is dedicated to sustainable practices!
Reducing our carbon footprint and improving the quality of our experiences in the ocean is extremely important to our customer service and logistics.
"Our future depends on healthy oceans and as a business owner I want to ensure that I am taking action to minimise our carbon footprint. The choices we make today have huge long-term impacts on our future, that is why we have implemented sustainable billing options (paper less invoicing), digital business cards, reusable glassware and plates (no single use here!), Hay Straws (which we reuse for our composting pile in our own back yard garden to grow our rosemary, mint and basil used to garnish your drinks onboard), we encourage reusable water bottles, Recycling of beer bottles, and most importantly we shop at our local farmers market for the freshest produce. Every little bit counts and small changes to your lifestyle matter. I do believe if we set the bar and educate our clients they will do so as well and pass it on to those around them. The Mersquad will continue to be innovative and passionately improving for the future generations. It is one of the most important things we can do for the economic development of our country. "
- Katie Storr Owner of The Mersquad Yachting.
Who We Are.
The Mersquad Yachting is a unique services company founded by yacht industry professionals, with an extensive and diverse body of work in the marine blue economy, scuba diving and yachting industry.
Truly a one-stop-shop. A trusted safe and reliable company to rent a charter boat or yacht, book scuba diving, build personalized itineraries, and safely dive beneath the waves with a qualified dive industry professional.

Our Vision - Authentic and Intimate Experiences

To connect adventure travel seekers, scuba divers, and luxury yacht owners/crew with quality services, and activities. Providing innovative and sustainable private tours, scuba diving, and yacht support services. Let us show you first hand why we say It's Better in The Bahamas.
Our Clients

Clients will have full insight into local marinas, cruising permits, laws and regulations, fishery regulations, itineraries, provisioning, travel logistics, and local transportation.
Our team is professionally trained to offer services to the Elite, The VIP and The NDA type.

"We are very discrete."
Discretion is paramount with our business, we take pride in the safety and security of our clients. Distinguishing our products and services apart from companies like ours in The Bahamas.
Our Services
Yacht & Private Estate Provisioning
Yacht and Concierge Services

VIP Lifestyle Services

Vessel Deliveries
Scuba Diving Guides and Curated Trips
Luxury Center Console Fleeting
Luxury Yacht & Private Estate Services and Support

Private Beach Setups

Premium Bait Shop
As we journey along with you on exploration or providing a service, it is our commitment to bring you the best quality services needed to insure a safe and memorable voyage.
We Support Ocean Literacy through Direct Funding of Educational Programs
What truly sets us apart is our company values, we support ocean education in The Bahamas, in 2021 Katie Storr (Owner of The Mersquad Yachting), received The Gilette Venus Wave Makers Grant where she developed an Ocean Literacy and Storytelling Program creating an opportunity for 9 young women to explore the ocean in their own back yards.
"The Ocean Goddess Academy has made waves within the community and I have never seen kids so eager and excited to learn about the ocean. I am so proud to be a Gilette Venus Wave Maker and to have been given the opportunity to create a curriculum that sparks curiosity, forward thinking and storytelling that is thought provoking and spreading awareness for ocean conservation ."
- Katie - Owner of The Mersquad Yachting
"Born to Explore." ALL IMAGES ARE TAKEN IN HOUSE AND COPYRIGHTED © Katie Storr Photograpy